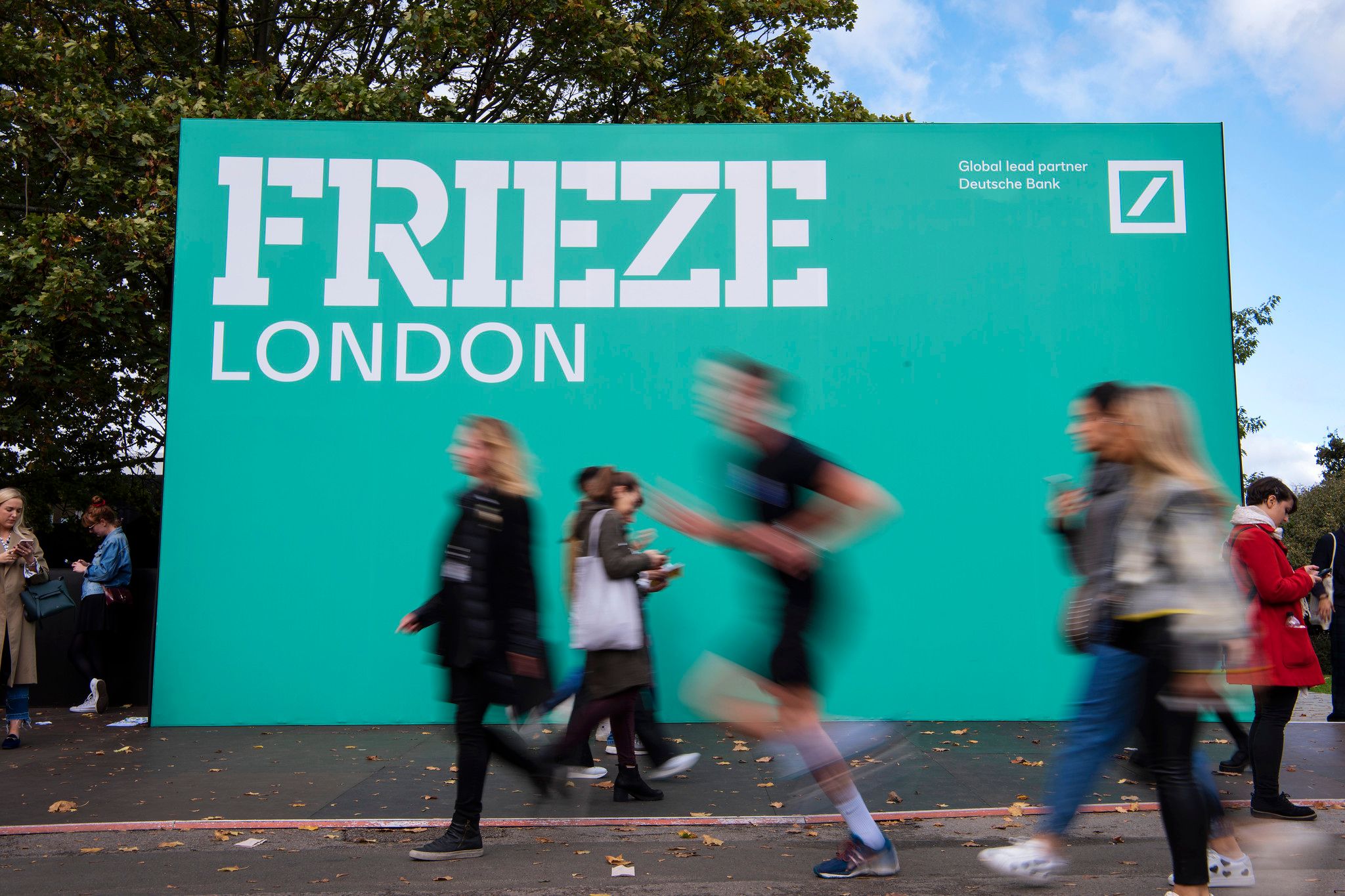 After a year's hiatus, Frieze London and Frieze Masters return to their respective tents in Regent's Park this October, with 276 galleries from 39 counties expected to take part.
Among those to have confirmed participation are Sadie Coles, Hauser & Wirth, Xavier Hufkens, Taka Ishii Gallery, Karma, Matthew Marks Gallery, Mendes Wood DM, Maureen Paley, Stevenson, David Zwirner, Acquavella Galleries, Colnaghi, Marian Goodman Gallery, Johnny Van Haeften and Lévy Gorvy.
Despite some travel restrictions still being in place, the number of galleries taking part is almost on a par with 2019. "The list of galleries participating confirms London as one of the world's most exciting art capitals, which has come through the pandemic with huge resilience," says Eva Langret, the artistic director of Frieze London, in a statement. In order to minimise crowds, the fairs will operate timed entries and—as with Frieze New York in May—all visitors will have to provide proof of vaccination or negative Covid-19 test results.
Some of the fairs' standout sections will reflect the turbulence of the past 18 months. Unworlding, which has been organised by Cédric Fauq, the incoming chief curator at CAPC musée d'art contemporain de Bordeaux, will feature artists whose practices propose new models for the future including Nora Turato, Ndayé Kouagou and Natacha Donzé. As Fauq says in a statement: "Through the use of fictional architectures, slow apocalypses and fictional scarcity, the artists gathered for Unworlding show us how pessimism can drive imaginative agency rather than lead to immobilism or the (re)production of the world we live in."
As people have been confined to their homes during the pandemic, design and decorative arts have proved increasingly popular—a trend Frieze Masters appears to be capitalising on with the introduction of a new section, Stand Out. Organised by Luke Syson, the director of the Fitzwilliam Museum in Cambridge, the section will present a "more complex, inclusive and interesting history of art [which] emerges when we bring art objects, in a range of media, to the fore", Syson says in a statement. Frieze Masters spans six millennia of art, from antiquities to Old Master paintings to overlooked masters of the 20th century including Feliciano Centurión, Beauford Delaney and Alice Rahon.
Virtual viewing rooms are here to stay, with both fairs operating complementary online programmes, including talks which will take place both online and in-person at Frieze's new exhibition space at No. 9 Cork Street. This year also sees the launch of membership events across London, with VIP access to the fairs as well as artist studio visits, workshops and private tours.