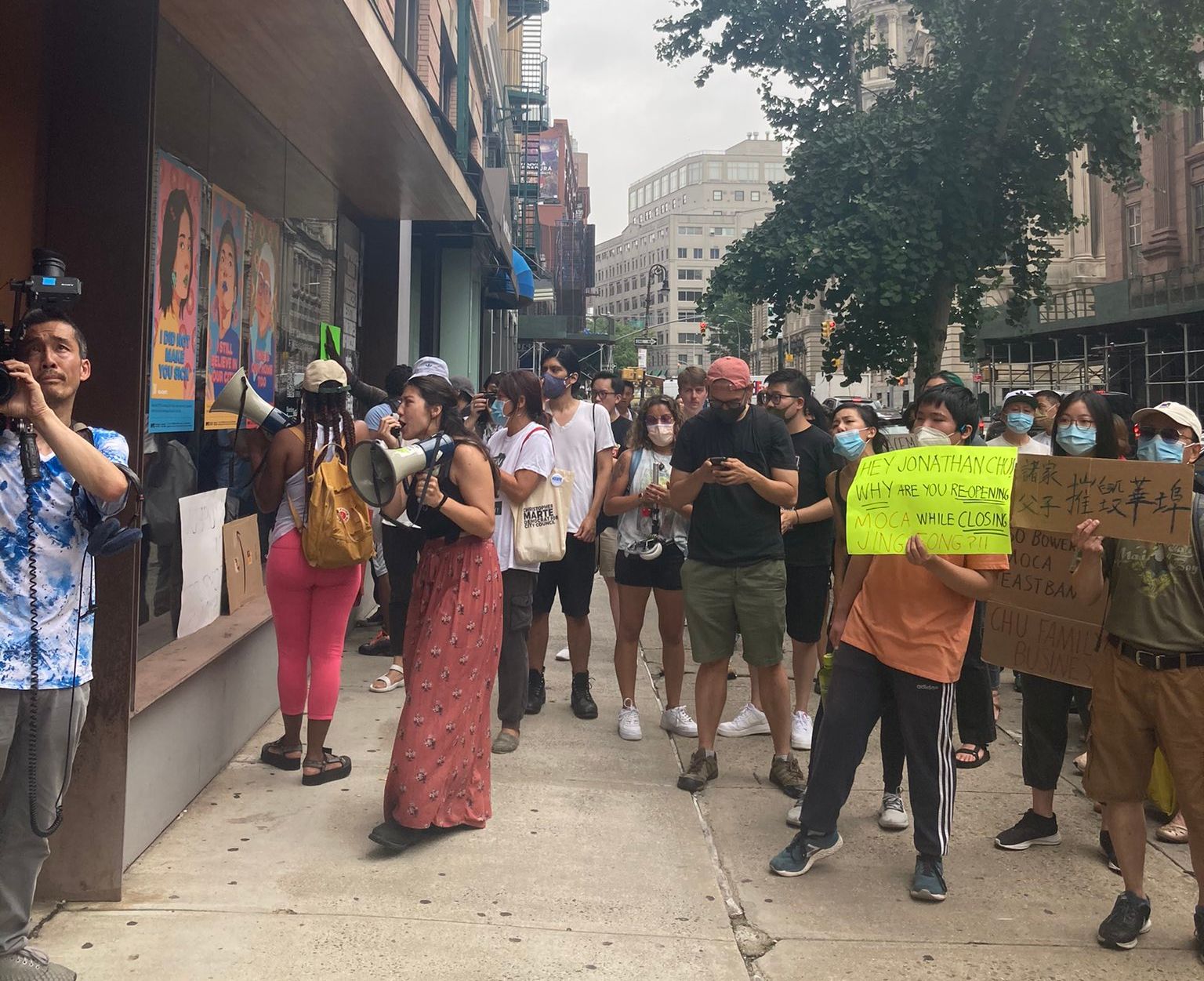 A crowd of demonstrators rallied in front of New York's Museum of Chinese in America (MOCA) yesterday. They were protesting what they see as the institution's support of a jail expansion plan and to denounce the board's co-chair Jonathan Chu, a landlord blamed for the gentrification of Chinatown and for the closure of two unionised restaurants in the neighbourhood.
Earlier this year, an exhibition focusing on the art collective Godzilla was cancelled after several members withdrew from the show, stating that the museum had supported the construction of a new jail in Chinatown when it accepted a $35m concession from the city. The concession is part of a community give-back programme for neighbourhoods affected by the construction of new jails after the planned closure of the Rikers Island prison complex.
This week, the artists Colin Chin and Nicholas Liem also requested their works be withdrawn from the museum's collection and removed from its current exhibition Responses: Asian American Voices Resisting the Tides of Racism, which explores the historical and recent spike in anti-Asian prejudice and hate crimes.
In an open letter to MOCA, Chin and Liem say the museum's "complicity with mass incarceration—which disproportionately affects Black and Latinx people—and the gentrification of Chinatown undermines its aforementioned purpose". Its acceptance of the concession and ties to Chu are "contrary to the expressions of solidarity between the Asian American and Black communities against police violence and gentrification highlighted in our work". 
In a statement to The Art Newspaper, Nancy Yao Maasbach, the director of the museum, says MOCA has "always been opponents of jail construction in Chinatown, which we have made public, so it is unfortunate that the decision by these two artists to back out of the exhibit has been guided by misinformation". She adds that the artists "also did not accept our invitation to learn the facts".
Maasbach notes a statement published earlier this year, in which MOCA expresses its "opposition to a Chinatown jail in public interviews, conversations and meetings with hundreds of people across the spectrum of Chinatown organisations, Asian American organisations and community advocacy groups since plans were first announced in August 2018".
The museum, which was founded in 1980 and aims to preserve the cultural experience of people of Chinese descent in the United States, was closed for more than a year due to the coronavirus pandemic, during which a fire in its nearby storage facility damaged a significant part of its archive.